7 Easy Christmas Cocktails for Your Restaurant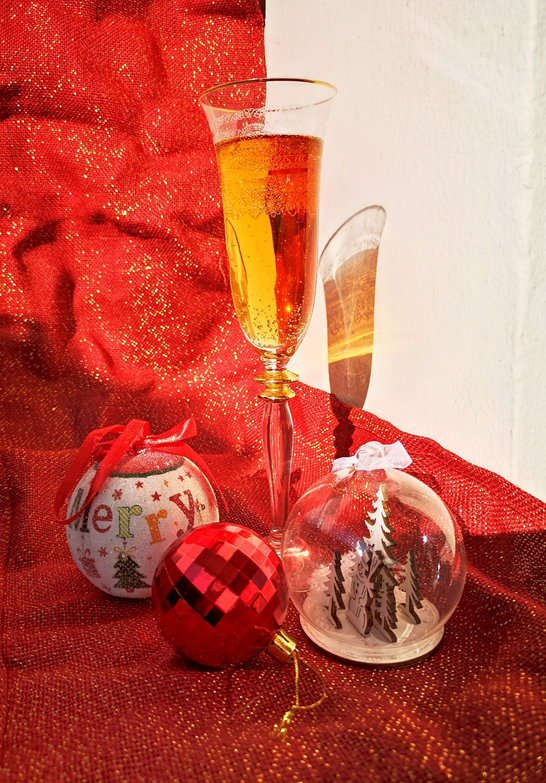 Cybartender via Pexels
2020 hasn't been a particularly good year for people involved in the restaurant and hospitality business. Although now with news of vaccines being announced and government restrictions being loosened a bit, we can be sure that the best part of 2020 will be the holiday season.
People around the world deserve a Christmas miracle for the tough year we have endeavored and nothing is more relaxing than a 'Christmassy' cocktail with close folks by a fireplace.
So as long as you have Christmas spirit, we got you covered on some spectacular cocktails that will traverse you straight to the North Pole.
Here is a list of some easy to make cocktails you can whip-up in your standard restaurant bar.
We promise, no fancy ingredients like a strand of Elf beard.
Just Simple ingredients, Simple cocktails.
1. Northern Lights
A drink as dazzling as the Northern lights.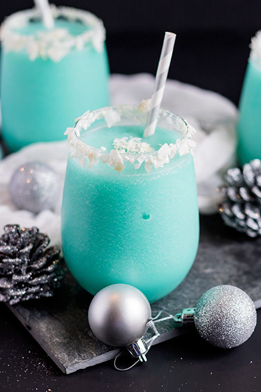 Photo via
www.jennifermeyering.com
Ingredients
2 oz. Vodka
0.75 oz. Blue Curacao
3 oz. Pineapple juice
2 tbsp. Cream of Coconut
Method
Rim your glass with granulated coconut using a lemon wedge (You could also use a Martini glass if you are feeling fancy).
In a cocktail shaker add a cup of ice followed by all the ingredients mentioned above and shake well for 20 seconds
Strain it in the glass and watch those faces glow with a smile.
2. Santa's Tea Toddy
Santa's Go-TO drink after a busy day of delivering presents.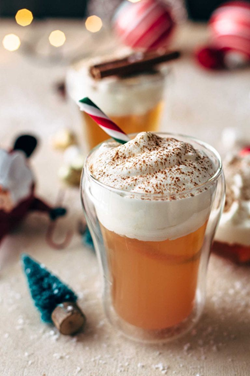 Photo via
www.thecookierookie.com
Ingredients
1 cup hot water
1 tsp honey
1 Black tea bag
1 ½ oz. Rye whiskey (or bourbon)
1 oz. Apple cider
Whipped cream (Optional)
Method
In a heat-proof cup add honey followed by hot water and drop the tea bag into the cup.
Let the tea steep for a 2 minutes, then discard the bag so the tea doesn't get bitter.
Pour in the whiskey or bourbon and a splash of apple cider (You adjust the amounts to suit your tastes).
Top the glass with some whipped cream and sprinkle some nutmeg and cinnamon powder. Sip up, Santa Loves this Drink.
3. Rudolph's Old Fashioned
A delicious classic with a Christmas twist.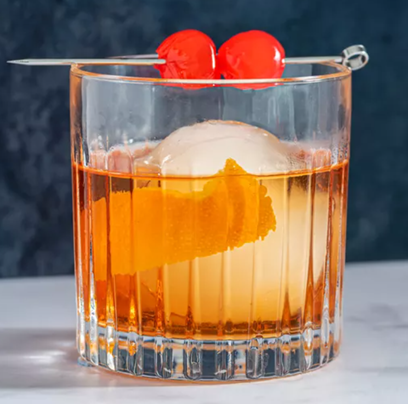 Ingredients
0.5 oz. Spiced mulled wine
2 oz. Irish Pot still whiskey (We recommend it)
3 Dashes of Chocolate bitters
Orange peel and cherries for garnish
Method
In a whiskey glass add a big chunky cube of ice
Add 0.5 oz. mulled wine, 2 oz. Irish Pot still and 3 Dashes of chocolate bitters in the whiskey glass
Stir gently for 30 seconds cherry and orange peel.
Garnish with orange peel and cherries on a tooth pick for that Rudolph's nose finish. We told you this would be easy !
4) Snowwhite
Let it snow, let it snow, let it snow !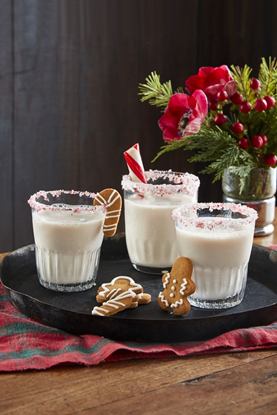 Brian Woodcock via CountryLiving.com
Ingredients
1 ½ oz. White rum
1 oz. White chocolate liqueur
0.5 oz. Ginger liqueur
White chocolate shavings
Gingerbread man cookie (optional)
Method
Dip the rim of a glass in water and then rim it with fine white chocolate shavings.
Combine white chocolate liqueur, ginger liqueur, white rum and ice in a cocktail shaker.
Shake vigorously and strain in the glass.
You can garnish the drink with some more white chocolate shavings and a gingerbread cookie for the theatrics.
5. Salted Caramel Martini
Salt and Caramel…Nuff said !!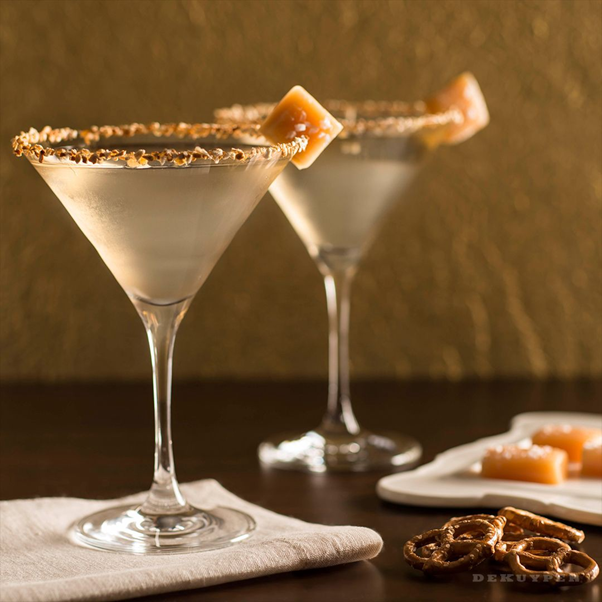 Ingredients
1.5 oz. Vodka (vanilla)
2 oz. Caramel Irish cream
1 oz. Caramel syrup (plus more for rim)
Method
Dip the rim of a martini glass in caramel syrup and roll it in coarse salt to get an even coat of salt and caramel.
In a cocktail shake pour ice and add Vodka, Caramel Irish cream and Caramel syrup.
Shake well, strain in a Martini glass. This one is even more delicious than it looks.
6. Elven Mimosas
The Elves love their drinks light and crisp, this one sure delivers.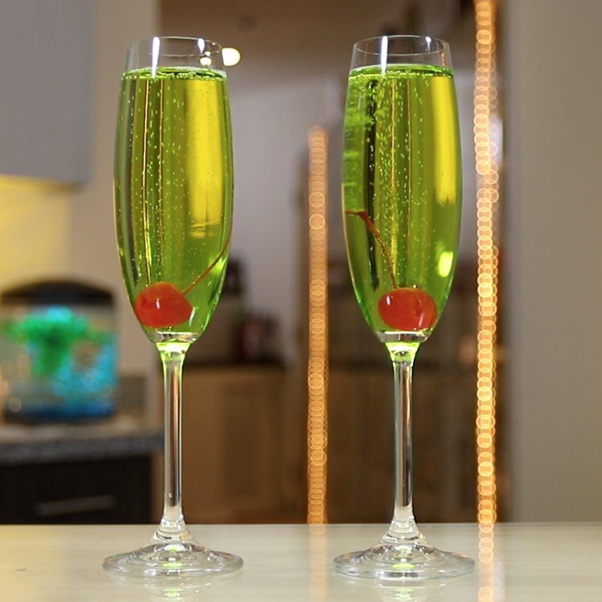 Photo via TipsyBartender
Ingredients
1 oz. peppermint schnapps
1 tsp Crème de menthe (Pepper-mint liqueur)
Top up with Prosecco
Method
Add the peppermint schnapps and Crème de menthe to a champagne flute glass.
Top the glass up with champagne or prosecco.
Garnish with a cherry for a simple yet classy drink that would make even the Elves proud.
7. Mrs. Claus Margarita
A stylish cocktail that embodies Christmas.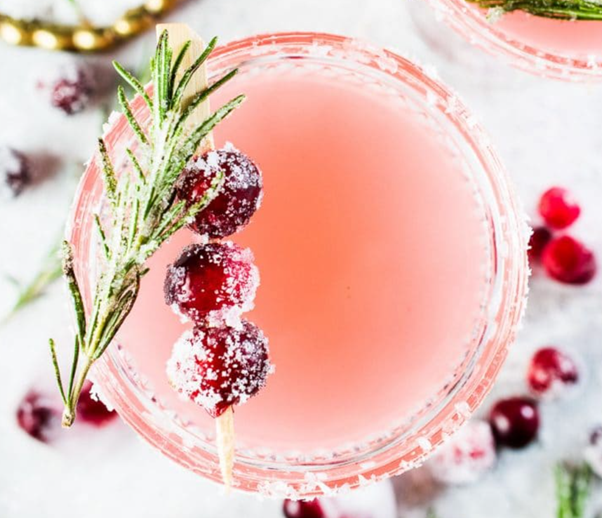 Photo via theendlessmeal.com
Ingredients
2 oz. Cranberry juice (more if you like it sweeter)
1.5 oz. Blanco tequila
1 oz. triple sec
1/2 lime squeezed
fresh cranberries and rosemary sprigs for garnish (optional)
Method
Rim a margarita glass with lime and coarse salt.
In a cocktail shaker filled with ice add cranberry juice, tequila, triple sec and squeeze half a lime for the juice.
Shake vigorously for 30 seconds and strain in margarita glass.
We hope these cocktail tips will help you to impress your customers during this holiday season.
Feel free to comment with your own ideas and experiences.
#Contactless #Tipping #Gratuity #Cashlesspayment #Cashlesstippingmadeeasier #FreeService #QuikTipz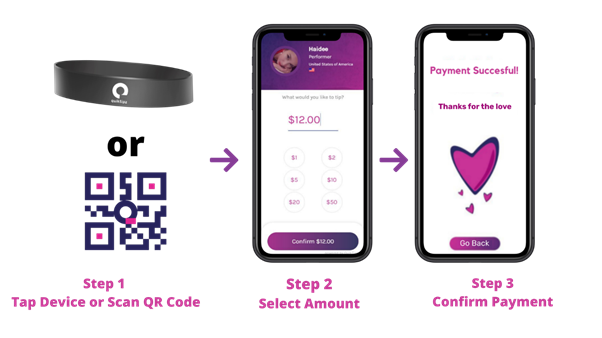 QuikTipz: - We Noticed Tipping Was Broken So We Fixed It!
Our cashless tipping solution is designed to help workers in the hospitality sector make more tips. If you are a business set yourself apart from the competition by being more employee centric, your staff will surely thank you!
Find out how we can help your business:
www.QuikTipz.com