Dave Reid, CEO of QuikTipz sharing some exciting news from QuikTipz HQ.
With the initial launch of QuikTipz during the pandemic, we decided to focus our revolutionary new payments platform, on providing a cashless tipping solution within the hospitality sector. While we received very strong interest in our offering, we quickly noticed the market becoming saturated with "Contactless tipping" companies popping up left and right and effectively cloning each other. This was making it increasingly difficult for businesses to differentiate between providers as they seemingly all offer the same USP, just in different packaging.
It was clear that our development team was unmatched in terms of experience, and our payments platform was far superior; built with an unrivalled integration capability and accepting all types of payments, even offering Open Banking solutions to our clients allowing for instant (and we mean instant) payment transfers. And, while Contactless Technologies is an important part of our DNA as a company, the proprietary payments platform and software ecosystem we created at QuikTipz was much more than "Just another tipping platform".
Having spoken to 100's of business owners and individuals across various sectors we noticed a particular pain point that they all had in common – The fact that the Internet is becoming increasingly fragmented making it extremely difficult for Brands, Businesses and Individuals to streamline their content sharing. A solution is needed to connect their social media followers to their entire online ecosystem, ultimately increasing brand awareness and in turn increase revenue.

Leveraging Customer data is crucial to make business decisions.
With other companies trying to address this in the market such as Linktree (even with a basic link sharing page garnering millions of users), they are now scrambling to integrate much needed monetization & payments capability into their "microsite" platforms.
QuikTipz see an opportunity to utilise the full strength of our Payments platform & Software ecosystem and capture this market with a solution that stands apart from anything that is currently available, to redefine payments & social media sharing.
We are delighted to announce the launch of QuikTagz – A fully customizable solution that allows you to instantly tap, connect and transact with anyone through your mobile phone, transforming it into the ultimate networking and payment tool.
QuikTagz - Unleashes the Brand of You! We provide fully customisable "microsite" profiles, designed to promote & monetise your brand, and receive payments seamlessly with our NFC devices, QR Codes & weblink. QuikTagz changes the game of digital content monetisation by making it easy to instantly connect with and promote what you do and receive payments, across all platforms!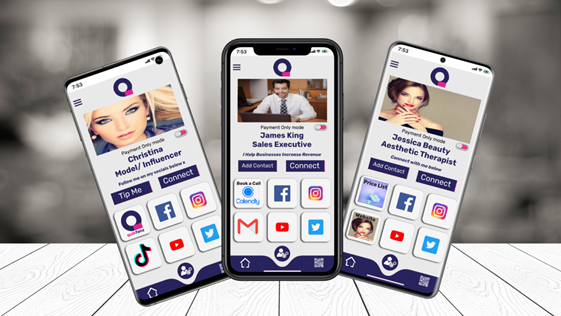 Custom profiles to suit your niche
I had the pleasure of being in Dublin City Centre this weekend to see an amazing young performer named Allie Sherlock use our system while busking and live streaming via YouTube. Using the QuikTipz ecosystem Allie was able to promote her brand, receive cashless tips (while performing on Grafton Street and Live on YouTube!), but also take payments online for her CD's and merchandise all from a single tap of our QuikTagz NFC device, scan of a QR code or a click of a "quiktipz.social" weblink.
Allie tried other solutions that offered "just tipping" or "real time fast digital tips" but they didn't really hit the mark in terms of what she was looking for so moved to QuikTipz to get a complete solution. Check her out at
https://allie.quiktipz.social
Available to buy now, our QuikTagz NFC products are perfect for musicians, bands, artists, influencers, and any business professionals looking to expand their network. QuikTagz is all about instant connection, so you can promote your brand like never before!
QuikTagz integrates all your social media handles, contact details and exclusive content all in one place. Share everything they want to know about you or your business with a Tap. The best part about QuikTagz is that it is powered by our QuikTipz payment software which allows for instant secure payments with just a tap on the QuikTagz or QR Code. So, no matter if you're an individual or a business, QuikTipz offers you all the tools you need to expand your business one Tap at a Time.
Please check out our new website at https://www.quiktipz.com for more information. Our QuikTagz application is available to download on Apple AppStore and Google Play stores now.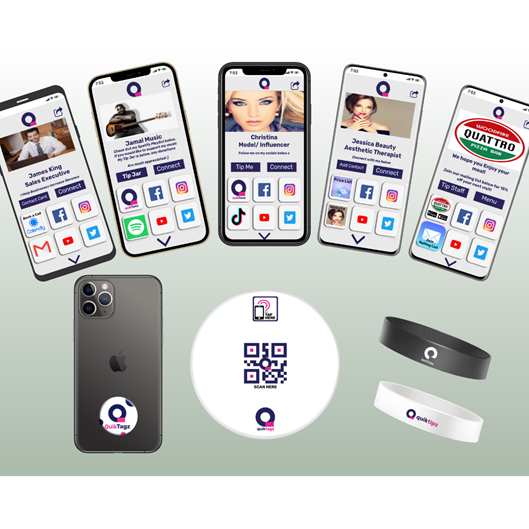 Promote your brand like never before!
Thanks everyone and even more updates very soon,
Dave,
CEO QuikTipz