Business cards have been around for centuries, and they were first introduced in 18th century France. But now, with advancements in technology, the idea of business card has expanded to include a whole new form — the digital version.
Digital business cards are now trending and gaining a lot of popularity in recent years. The success of digital business cards is primarily down to the versatility and ease of use over conventional solutions. They can be used for purposes such as promoting your own brand, connecting with potential partners, and more. They are also much more cost-effective than traditional business cards. In this article we will look at some of the ways using digital business cards can be beneficial for your business and why you should consider implementing them in your marketing & promotional strategy.
—
1. Showcase your expertise.
Digital business cards are like virtual pamphlets that you can carry with you on your phone. They provide a virtual platform for you to display your skills and connect with potential business partners.
Digital Business Cards are a new form of promotional material in the digital world with very low upfront investment. They are guaranteed to deliver tangible results as they can be shared as digital links, via NFC device and even QR codes. These cards allow businesses to showcase their skills and tell a more convincing story. Connect with potential partners in the industry and share contact and content information with ease.
Users can create these cards by downloading an app on their mobile device or visiting an online website where they can create a profile page for themselves. Users can then use this profile page to upload pictures of themselves, insert their contact and social media information and customize their card as they see fit with appropriate links.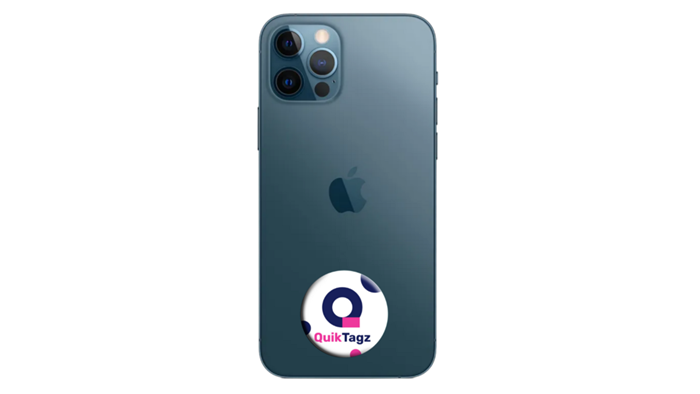 NFC Tag

2. Multiple connectivity options.

Digital marketing is a delicate art that requires small businesses to break through the noise of the internet and reach the right people. Many people overlook the value of professional business cards and how they can form an important part of your brand strategy. The idea behind a digital business card is simple; SHARE MORE WITH LESS. These multifunctional business cards are designed to be shared with multiple recipients in the most diverse ways possible. You can share your digital business card by tapping your NFC tag or by pasting it into an email, SMS, social media bio/post etc.
A digital business card is essentially a Link that holds all the information you wish to share. Get creative because the ways you can share this link is limitless.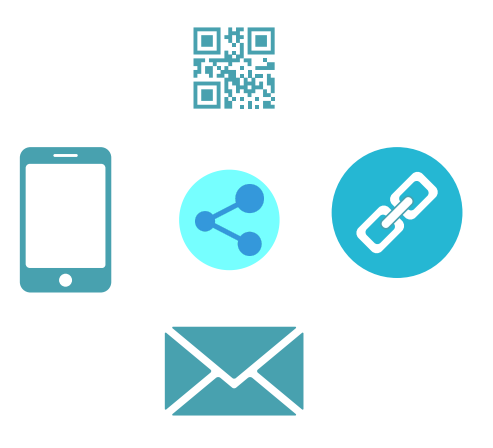 Share with a Tap or a Click.

3. Easy updates and seasonal promotions.

One of the main benefits of a digital business card for a small business is uniform messaging across the board. Information can be updated with the click of a button; they are mobile-friendly; and can be shared on multiple social media platforms. This ensures that businesses save a lot of time & money by not relying on printed media which needs reprinting. The digital technology allows your followers/ clients to interact with your content like never before. Best part, the content, links and deals you wish to highlight can be changed on a regular basis, e.g., run special deals or promos for Christmas or Black Friday.

4. Payment functionalities

Digital business cards allow for ease of contactless payments, receive payments instantly in your bank account with a Tap or a Click. With these advanced digital business cards, you don't need to download a separate app to accept contactless payments. Now, you can effectively receive payments in two easy ways.
Link your payment page to your digital business card and share them across all your social media bios and receive payments from customers directly in your bank account. Link your online store to your digital business card and boost your online store revenues. Share your link via email, SMS etc and receive tips/donations with a click.
Bring the digital to the physical realm with NFC devices. If you are not already using it, this is the perfect time to convert your digital business card into a contactless payment system. People who want to pay you, can simply tap their mobile phones on your NFC device to pay you instantly via Apple Pay or Google Pay.
Some of the key benefits of using this system are that it removes cash from transactions, it saves time by eliminating queues and allows for easy access to payment details.

5. Superior performance tracking.

Digital business cards can massively improve conversions as they are essentially a micro landing page.
A micro landing page is better than any physical card out there!
Digital business cards can help collect and export contacts easily, share social media handles, files, videos and more. Promote your services and content. Get data-analytics and push notifications. Superior performance tracking is the key benefit of digital business cards/links.

Why performance tracking?
In this digital age, it is not the same anymore to know who you met at a conference or event. You need to know if they connect with you on social media, purchase something online, or sign up for a trial of your product or service. That way you know which person has more value than the others and deserves more attention from you.
The best way to do this is by using digital business cards with performance tracking functionalities. This will help you track key data in an easy-to-use interface that will give useful insights on how to grow your business. Also tracks payments trends and how much revenues you generated over a given timeline.

The Way Forward.
Contactless payment and networking technologies are increasingly popular nowadays, and the technology is spreading rapidly across the world especially in developing countries. With NFC devices and digital links, you can go from browsing to buying in seconds. Most small businesses can leverage this to their advantage with digital business cards/ links. So, make sure all your key information is easily shared with people via tap of an NFC tag or just a click on the link in your bio.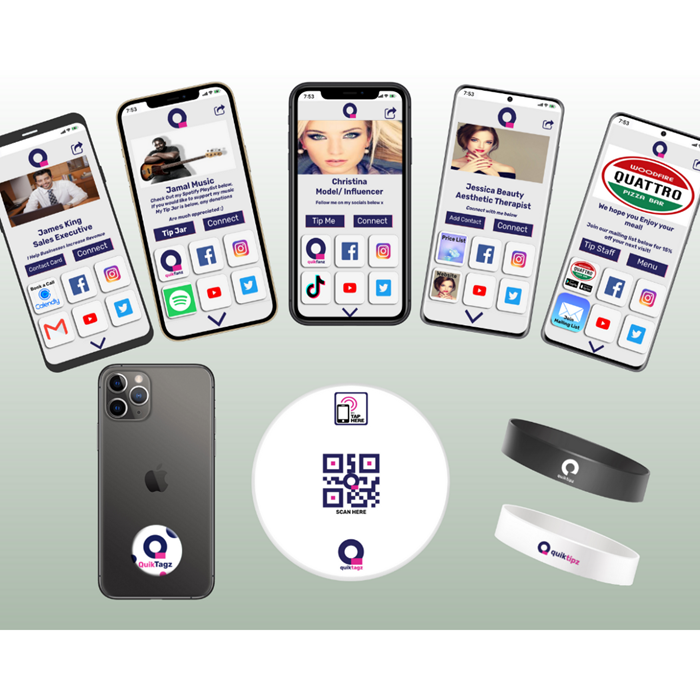 SHARE | PROMOTE | EARN

Introducing Quiktagz — A fully customizable link that allows you to instantly click, tap, connect and transact with anyone through your mobile phone, transforming it into the ultimate networking and payment tool.
Visit our website to discover more and buy the QuikTagz NFC devices: www.quiktipz.com

You can download our App and build your own stunning digital business card/ micro-site for free. Get started today.

Download now.
Apple App Store: https://apps.apple.com/ie/app/quiktagz/id1576038096

Google Play Store: https://play.google.com/store/apps/details id=com.quiktipz.nfc